While I am here, let me remind you to indulge in a few days of opportunities for semi-literary excitement and celebration of two beloved characters of short stature and a propensity for fine meals. Tomorrow, 20 September, we have
Talk Like a Poirot Day
, a tribute to the legendary Agatha Christie detective, and an apt postlude to the annual
Talk Like a Pirate Day
. Dust off your moustache and monocle, and prime your Belgian accent for a day most grand! A little fine dining won't hurt either.
The next day, Friday, 21 September, marks the 75th anniversary of the publication of J.R.R. Tolkien's
The Hobbit
(not quite as momentous an occasion as an eleventy-first birthday, but it will do). Fans all around the world will be celebrating with
second breakfast,
at 11 o'clock
sharp
(Owing to the demands of the work day, I will be having a very late second breakfast). The very next day, 22 September, is Hobbit Day, the shared birthday of our beloved Bilbo and Frodo. If ever I had an excuse to bake scones, this is it! Oh, and read. Hobbits love to read: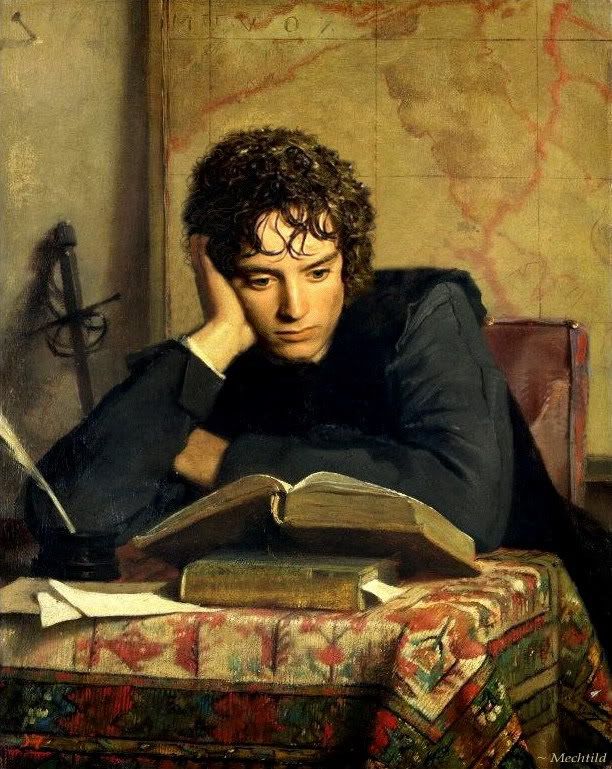 cf. Ferdinand Heilbuth's The Reader (1856)
I take this opportunity to once again heartily recommend that you read Tolkien's letters if my previous pestering has not already caused you to do so. Here is my favorite quotation from all of his published correspondence:
"Out of the darkness of my life, so much frustrated, I put before you the one great thing to love on earth: the Blessed Sacrament...There you will find romance, glory, honor, fidelity, and the true way of all your loves upon earth, and more than that: Death: by the divine paradox, that which ends life, and demands the surrender of all, and yet by the taste (or foretaste) of which alone can what you seek in your earthly relationships (love, faithfulness, joy) be maintained, or take on that complexion of reality of eternal endurance, which every man's heart desires."
-J.R.R. Tolkien, from a letter to his son, Michael, 1941
Also, for your listening pleasure on this occasion, is a
lecture by Joseph Pearce
on
Lord of the Rings.
(More about Pearce
here
.) Also stay tuned for recordings of talks from this Fall's Catholic Literature Lecture Series at Notre Dame's Center for Ethics and Culture, to be found
here
.